Sunnyside World
A downloadable asset pack
Farm 👨‍🌾 Craft ⚒️ Fish 🎣 Harvest 🍒 Build 🏠 Battle 💀 and more!
NEXT UPDATE: Interiors, Updated Tileset.

Want to build a cute, bright and colourful farming sim, a town builder, a strategy game or maybe something entirely new? This asset pack *might* be for you!
Support the ongoing development of this asset pack and get regular updates! If you've suggestions or requests, just let me know! Check the Devlog and comments for updates!

• 20 Character Actions - Humans & Goblins!
including: Idle, Walk, Run, Roll, Jump, Hurt, Death, Carry, Attack, Swim, Cutting Trees, Mining, Building, Fishing, Activity.
NOTE: Sprite assets are for L/R movement, similar to Forager and Atomicrops! Also as seen in the mockups below!

• 7 Hair Styles

Fully pixel animated hairstyles. Use pallette swapping in your project to change character colours and create endless varients.
• Skeleton :
Idle, Walk, Attack, Hurt, Death, Jump
• 16x16 px Town Tileset with: Buildings, Nature and more.
• Game UI including icons emotes and more
• Crops 11 different crops with 5 stages of growth and harvest sprites!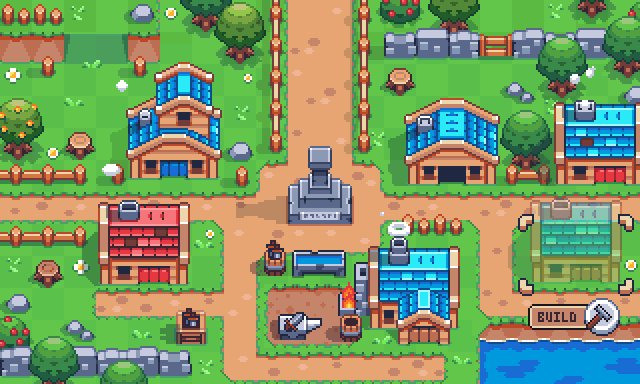 ASSET PACK CONTENTS:
• INITIAL TILESET PSD & PNG - The initial tileset includes land, cliffs, paths, dirt, water, foliage, fences, walls and buildings. Tiles are not fully tested yet, but should work fine. I will be aiming to make the tiles work with AUTOTILING so you can create your scene quickly!

• SCENE PSD - A test scene and my working file, showing how assets might be implemented. Uses source images and not the dev assets.

• CHARACTERS PSD - A selection of the characters, this is my working file and used for reference as is. Full character assets will be provided when complete.

• CHARACTER ANIMATIONS - Initial character animations. These are work in progress but provided are some gifs and the source ASEPRITE file.
FUTURE ROADMAP
• MORE CHARACTERS - Character outfits, hair, tools, colours.
• ANIMATION - Character and Tile animations

• BUILDINGS - Uniques buildings, eg. FORGE

• RESOURCES - Expanding on initial resources
• MORE - More of everything!
COMING SOON : INTERIORS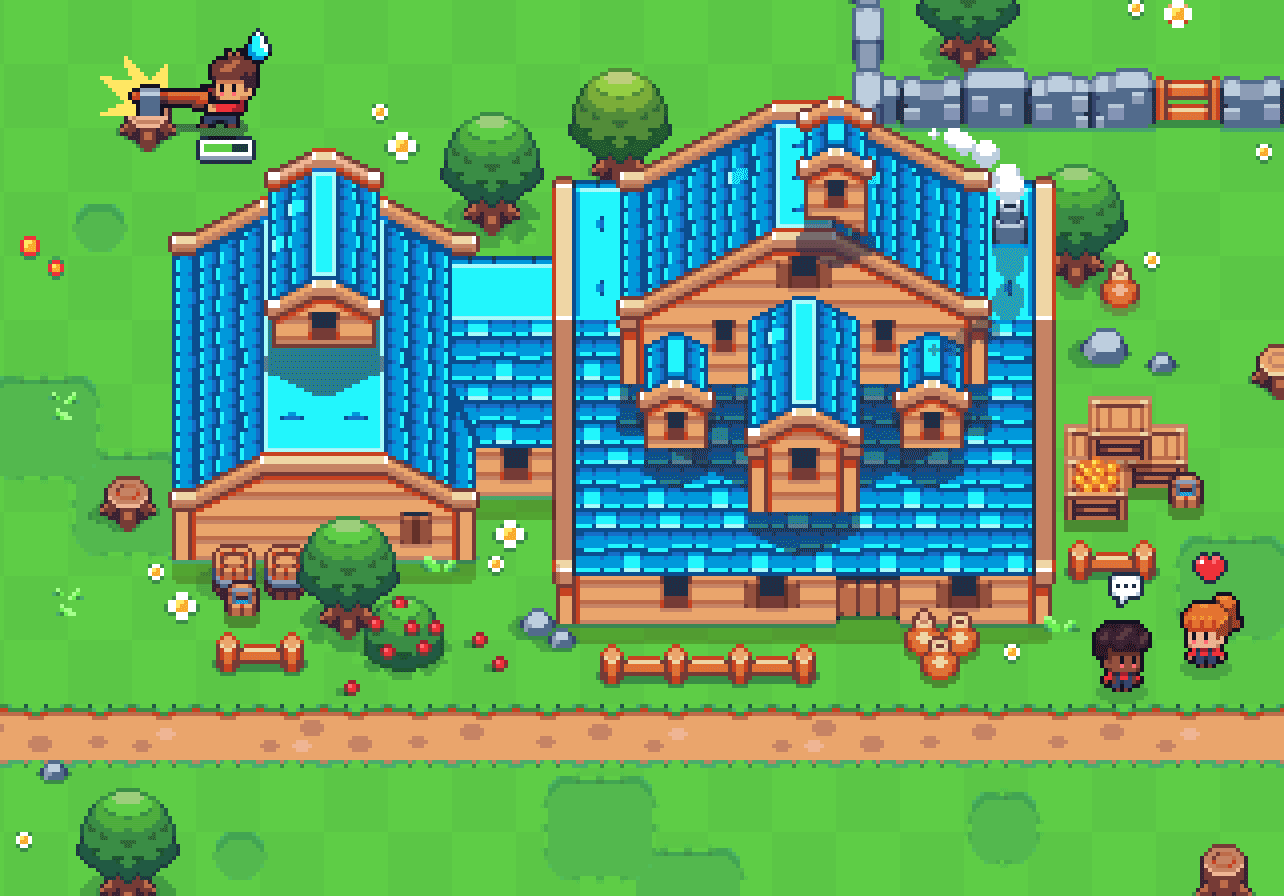 CONTACT:
Follow me on Twitter @DanielDiggle for updates and requests https://www.twitter.com/danieldiggle
SUPPORT:
Support me in creating new assets via my new Patreon! Patreon supporters will gain access to the Sunnyside World assets (once I figure out how that works).

https://www.patreon.com/danieldiggle
LICENSE: V0.1
This asset pack can be used in free and commercial projects. You can modify the assets as you need. Credit is not necessary, but always appreciated. You may not repackage, redistribute or resell the assets, no matter how much they are modified - this includes as NFT's.
Purchase
In order to download this asset pack you must purchase it at or above the minimum price of $30 USD. You will get access to the following files:
BETA Sunnyside World - Tileset_GameMaker.zip
2 MB
*NEW* SUNNYSIDE WORLD - BETA UPDATE
2 MB
SUNNYSIDE_WORLD_ASSETS_V0.2.zip
666 kB
SUNNYSIDE_WORLD_CHARACTERS_V0.3.1.zip
2 MB
SUNNYSIDE_WORLD_UI_V1.0.zip
105 kB
SUNNYSIDE_WORLD_BUILDINGS_V0.01.zip
1 MB
SUNNYSIDE_WORLD_CHIMNEYSMOKE_v1.0.zip
1 MB
SUNNYSIDE_WORLD_CHARACTERS_PARTS_V0.3.1.zip
480 kB
SUNNYSIDE_WORLD_CROPS_V0.01.zip
78 kB
SUNNYSIDE_WORLD_GOBLIN_V0.1.zip
251 kB
SunnysideWorld_TILESET_V0.2_WORK-IN-PROGRESS-NOT-COMPLETE.psd
1 MB